Pictures!
Today I got home to a wonderful package from my secret pal with 2 skeins silver eyelash yarn (Yay!) a blue and silver beaded necklace (another yay!) a journal (my new knitting journal) and some very pretty star fabric. I have no idea what I'm going to do with the fabric, too bad my quilt is already made. :( Regardless, it is really beautiful. Also, my secret pal went to all the trouble of wrapping everything so beautifully! I'll have to do that next time.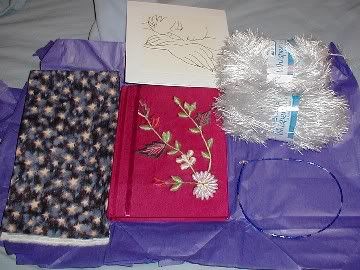 And I'm finally done (actually a couple of days ago) with the baby sweater. I still have to weave in the ends and wash it, but I think it turned out quite well.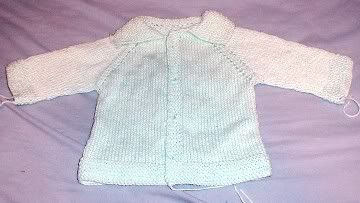 And I got 6 sweaters at Goodwill this weekend to frog for yarn. I'm hooked! I'll have to go get some cream/white ones (they have tons!) so I can dye some yarn.