My SP package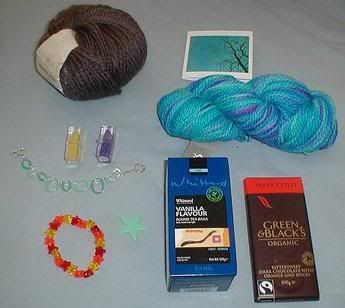 Here it is, as I promised!
The items from top to bottom, left to right:
Rowan chunky print yarn, a lovely card
two lip glosses, Colinette yarn (I love the colors!)
bracelet with blue metal oOos
plastic star bead bracelet, blue glow star, vanilla tea, chocolate
Thanks SP for a lovely package!
I'd also like to add that the box itself was quite nice. It was wrapped in brown paper (like the Mary Poppins song!) and on the box itself were many happy messages. My SP even pointed out that the packaging was recycled - maybe a clue to her identity. I'm all for recycling, SP, so I appreciate it! I even worked at a recycling center when I was younger. Also there was pretty purple tissue paper in the box. Unfortunately after my frenzied opening, it didn't look quite as beautiful, so I didn't photograph it. ;)