Cast on for Rogue!
I am so excited about Rogue. I've cast on, started knitting the k1p1 rib last night, and spend a long time tinking today because I somehow started going backwards on a round last night and didn't notice until today. :(
I also completed four afghan squares, and the following Red Sox: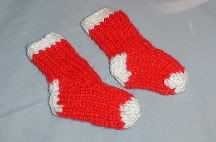 They're for my classmate's backpack, so no, they won't fit you!