Fuzzy Feet picture (pre-felted)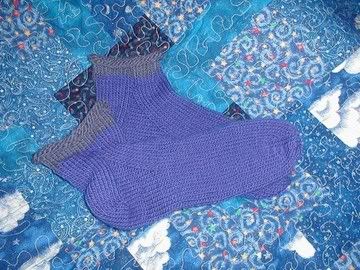 Here, finally, is a picture of my fuzzy feet before felting. The awesome background is the quilt on my bed. I don't know when I'm going to felt them. I'd love to be wearing them, but the washer at my house is a coin one and I can't turn back a knob for extra agitation. I might just run a hot load this weekend with a few pairs of jeans I need to shrink and see if they get to be the right size.
Well... my WIPs have decreased dramatically recently. I usually have many projects going on, Rouge, a bunch of little things, the few rows of the baby blanket I cast on months ago and haven't touched since...
Well at the moment I have only 3 WIPs. Rogue (I just have the hood and sleeves to go), aforementioned baby blanket (which I am finally working on), and the socks for Saturday's sock workshop ready to go. I'm impressing myself, and am strangely unhappy not to have a million things to work on. I have knitting ADD, I think, which is why I need so many things going at once. And as I start completing my current WIPs I don't know what I shall do.
I think I'm going to start another sweater, a more stereotypical sweater that one wears much like a shirt and not a hoodie. I have a couple of patterns I'm trying to decide between, and I'll have to get the yarn too. I'm sure I'll also soon have another pair of socks going because they're just so great for a take-along project.