And now for the pictures.
Here's my finished Soleil, it's at a funny angle in the picture, but that's the only way I could get the whole thing to fit.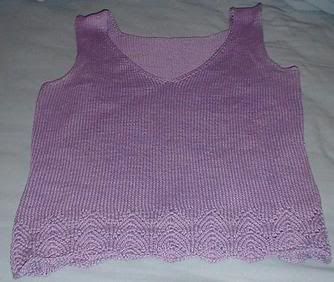 It fits quite well, although the waist is a little too loose. However since it's knit bottom up I'm just wearing it as is - it's comfy and looks fine.
I also took a picture of the progress on my Tivoli, and since it's basically a close up shot of my chest (wearing said Tivoli, of course) I debated posting it. But then I decided that after I bothered taking the picture and uploading it and everything - which included my camera batteries going out and having to recharge, I'll just post it. You've been warned.