Famous Socks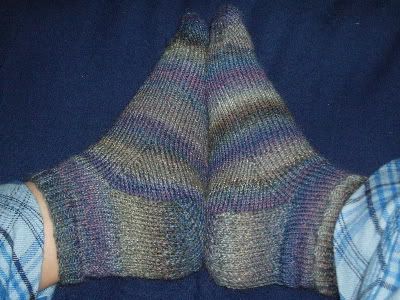 So, why are they famous?
These are the socks I wrote about starting at Jessica's
The Princess Bride
party. I stole her yarn, and cast on for a pair of ankle socks.
On my
Journey
to NYC I brought these socks. I turned the heel in South Station and worked on gusset decreases in line. They were filmed by MTV will waiting in the line for the AFI video premier, and I knitted them more inside the Nokia Theater and on the bus home. Last night they came to the listening party for the new album at Axis!
Today they came to New Hampshire Sheep & Wool with me and I just kitchenered the toes a few minutes ago.
Pattern: none
Yarn: Regia Strato, 1 50g ball
Started: 5/6/06
Finished: 5/13/06
The socks are for Jessica, but since they seem to fit me that might be a problem... Hopefully they'll stretch.