Sixth Sense Socks
My first socks for May are done!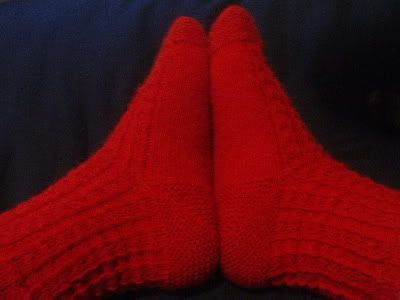 Modelled by me. These socks have a short row garter stitch heel. I think I like it better than a stockinette short row heel, mostly because it's harder to see the lines up the side of the heel. However,
Johanna
was telling me about a yo short row heel that I may try.
Pattern: Sixth Sense Socks from the Six Sox KAL
Yarn: Alpafina a 50/50 alpaca/wool blend
Started: 4/16/06
Finished: 5/3/06
They're not for me, but amazingly there is someone else in the world with the same small feet that I have. ;)