Another SP package!
Well, good thing I got this package, otherwise I wouldn't be able to keep up with my posting trend. ;)
The package was packed up on my birthday, and it arrived today. Well, yesterday, but I wasn't home to get it yesterday. ;)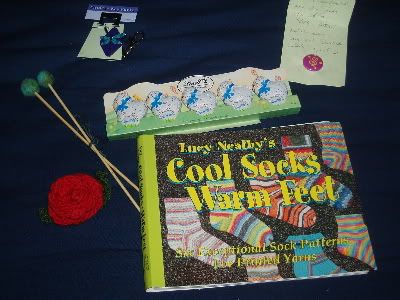 It contained all sorts of goodies!
A dragonfly hook with a clip on the end, meant to hold keys in your purse, but I might find another use for it.
A pin for my SP's local fiber artist collective, but it's a yarn making an S and knitting needles so it works for me, S for Stariel, ya know.
A pair of size 3 needles with little felt balls on the ends. Made by a friend of my SP, and perfect for lace!
Lindt chocolate lambs. :D
A knitted rose pin! Did you make it SP?
And last but certainly not least,
Cool Socks Warm Feet
by Lucy Neatby - she's Canadian! It has lots of patterns for printed yarns, which is awesome because I have a lot of variagated yarn.
Thanks so much SP!