Look what came in the mail today!
My first SP package!
"First?", you ask. Why yes. The one I posted earlier was the second, because the first was lost. Lost in the mail. But today it showed up at my door, nearly 2 months after being mailed, all nonchalant and not explaining where it had been all that time.
You can imagine I was excited to see all these nicely wrapped goodies pouring out. :) I made quick work of unwrapping them and discovered this: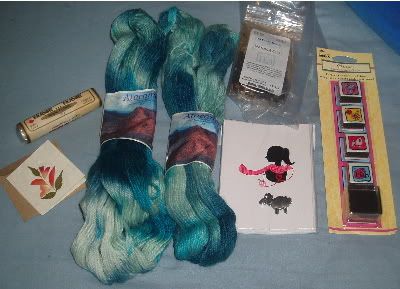 From left:
Maple fudge above an adorable card, two skeins of beautiful blue Atacama Alpaca, Masala Chai (yummy, my favorite!), knitting notecards with a little sheep magnet on top, and "groovy" rubber stamps. One of the stamps says "Fab!" :)
Thank you so much SP, I love all my goodies and I'm so glad the package was not missing forever!