My SP package is here!!!
So, there was a little snafu with the first package, which is hopefully still making it's leisurely way here... or back to my SP... or anywhere but being lost forever because that would just be too sad.
But Package #2 has arrived!
I saw all those tissue wrapped things and I just had to take a picture.
And after much unwrapping, the contents: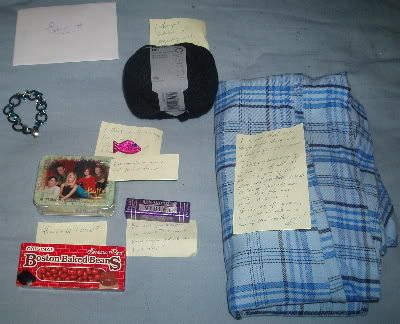 From top left:
An awesome (handmade?) bracelet with black plastc rings, blue beaded rings holding them together, and a little silver star charm. I'm wearing it now! A ball of Cashsoft DK to make
Mrs. Beeton
, and
blue plaid PJ pants
! My SP read that I like to knit in my PJs and got me these cute pants. :)
Next Row:
Buffy mints. Yes, you read that right. I can eat these little mints, and then when I'm done I'll have a Buffy tin to hold... stitch markers or something. :D The little pink fish is a pin made by a local artist, and my SP suggested we name her Starieyed. I agree. :)
And last but not least...
Boston Baked Beans (tee hee) and Violet "mints". Are they really mint, or violet flavored? I have no clue. She said that I probably wouldn't like them, but I'm going to give it a shot. And if they're gross I'll just offer them to my friends and make *them* eat them!