WIP it out, the final episode
OK, here goes!
First up are the living room WIPs. These are the projects that get worked on mostly while I'm watching movies. Or other Netflix.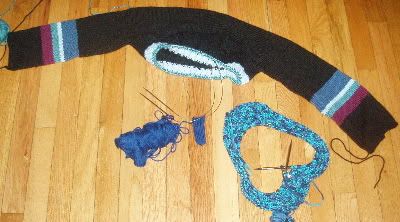 At the top we have Tubey, and bottom from left to right: a secret project (my most recently started WIP), a tank top I started to avoid having to photograph that yarn for FYS. I mean, if it's part of a WIP it's not stash, right?
Speaking of, why is everyone posting Flash Your Stash pictures today? Is anyone else as confused about this as I am, it's tomorrow!
OK, on with the WIPs. Next we have socks and a bag:
From top left: Elfine's Socks, Conwy Socks (my oldest WIP, and the only one started before the new year!), Mata Hari socks
Bottom: Spork (a felted messenger bag)
Last but not least, the animal WIPs:
Left is a pig I'm making with some random pink acrylic. Right is the bunny, which is waiting on something pink and fuzzy for the inner ear.
And I'll be posting for Flash Your Stash
tomorrow!