Socks and my wheel
This evening I went over to Jessica's for knitting, planning, and
The Princess Bride
- which I haven't seen since I was about 8 years old and thus did not remember, except for the part where she nearly commits suicide. While I was there I finished the ladybug socks, my first ones with an afterthought heel. I think they turned out well.
Since I hadn't brought any other knitting I had a knitting crisis and started knitting socks with some yarn Jessica had lying around. I couldn't finish watching the movie without my knitting!
I also got my wheel back, and it's finished now. It looks great!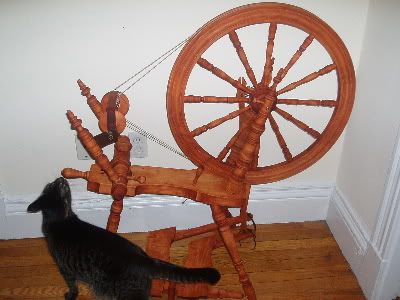 Java is the official wheel inspector around here. That's about enough knitting excitement for one evening.
ETA:
The wheel is a Kromski Symphony, as a couple people have asked. I love it! :)