I got a package from my SP!!!!!
Yay! First off, I just have to say my SP is great. This is package #2 because I keep going away and moving and stuff. Let's just say I give her a lot of time to think about what to put in since I keep telling her to postpone delivery.
So this time I resisted the urge to rip the thing apart, and actually took blow-by-blow pics.
The box: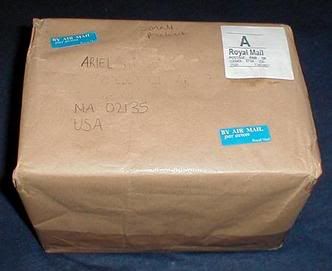 My lovely SP sends me packages wrapped in brown paper. It makes me think of The Sound of Music every time.
After a bit of cutting with the scissors: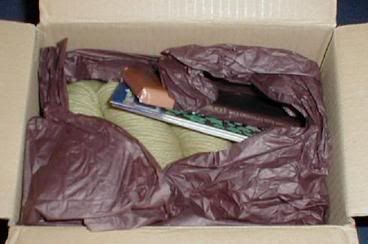 I have the box open and took the picture before I started pulling things out. You can see the side of a bar of chocolate in there!
The contents follow.
First off, paper goods:
Two!
packages of star stickers. I love stars. Some really cute kitty stationary. I love kitties too. I love stationary. My SP has really got this stuff down! Now I've put them on my blog I can't use them on any SP correspondence in the next round.
The food:
Some lovely mango green tea. (The vanilla black tea from last time was great!) And a chocolate bar with
almonds
. I love almonds, but I told her that. ;)
The yarny-goodness: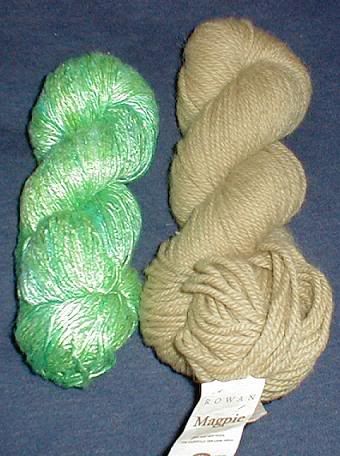 On the left is some Hipknits silk, which I've been meaning to try. And SP, if you read this, don't worry - I do like green. :) On the right is some Rowan Magpie which my SP has suggested that I dye. The color is actually OK, but it would be very hard to find another color to go with it. I think it shall become blue or purple.
The note:
You can't read it because it's for me, but I just wanted to show the adorable panda stationary.
Thanks so much SP!