The Haul
On my trip to Seattle and Oregon I did buy some sock yarn, types of yarn that I don't own already and a little Socks That Rock.
I got The Great Adirondack Yarn Co. Soxie in Old English, Schaefer Anne, and some Nature's Palette in Iris. The Nature's Palette just couldn't wait to become
Baudelaire
. ;)
Also I realized I've been skimpy on the details in the last few posts. Here's a better (blocked) picture of the Conwy socks.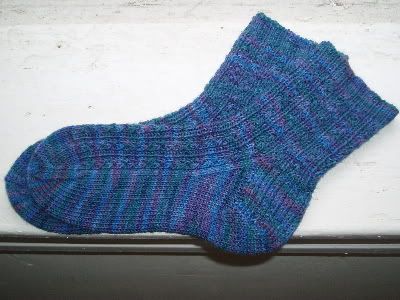 Pattern: Conwy from
Knitting On the Road
Yarn: Lorna's Laces Shephard Sock in Tahoe, 1 skein (hence the short legs)
Started: Loooooong ago!
Finished: 9/7
The Cedar Creek socks (green/blue and brown/gold) a few posts back were the first kit from the Socks That Rock Rockin' Sock Club. The color is Rainforest Jasper and the pattern is the one that came with the kit.
And the baby socks were a pattern of my own (and the same yarn as Cedar Creek) - CO 32 sts, rib for 10 rounds, 2 rounds stockinette, star the heel flap, 2" stockinette on the foot and then start the toe decreases.