Still on Seattle time...
I've arrived home to piles of mail and cats that are very glad to see me. So even though it's very late I just
must
blog about my 4th package (yes, because she's just that cool) from my amazing Knittyboard SP7
Skitten
.
I opened up the large padded envelope and saw a pile of gifts all wrapped up:
Upon unwrapping them I beheld amazing goodies!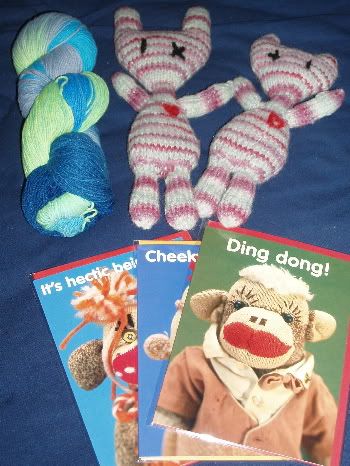 Yes,
more
sock yarn! Cashmere blend from Posh Yarns! And more sock monkey cards!
Also she knit me stuffies! The one on the left is Ben the bunny, and the one on the right is Alphonso the cat. She even included a warning for me in the card
"
They have been through felting ordeals and have been mocked by all who see 'em, so I'm afraid this has resulted in twisted personalities - my advice to you is this:don't turn your back on them,don't let them near your knitting needles,and don't go to sleep with the door open
."
Ok, now I'm a little scared. ;) Especially since I plan to keep them in my bedroom, maybe I should lock them in the closet or a dresser drawer?
And on that happy note it is time for bed.