Portland Knittyheads and Adventures with Socks!
On Monday I was going to be in Portland for a few hours so I rounded up a bunch of knittyheads to keep me company for the few hours I was there. First
Missamite (next to me on the far left) met up with me and we hit a couple of yarn stores - Lint and Knit-Purl. Then we went to the Portland City Grill and met with (in order starting on my right)
kschmitz, ZumaGirl74, and hellahelen.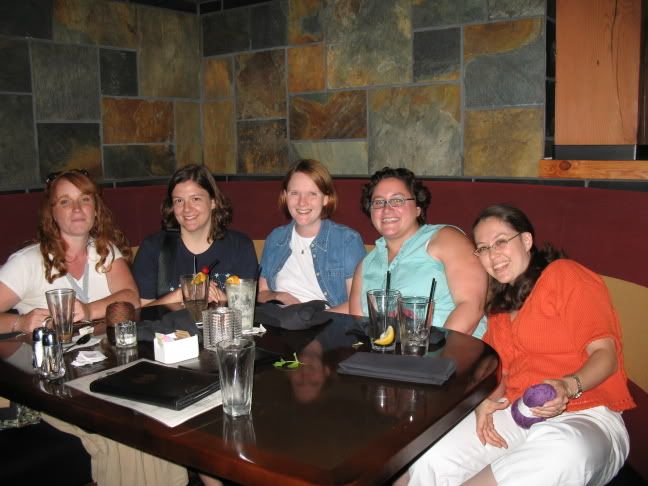 After Happy Hour we headed to Yarn Garden where we fondled even more yarn, drank some tasty beverages, and ran into
Knittin' Mom
! I guess I really do know everyone. ;)
And now, fast forward a few days to yesterday:
My socks and I had a few adventures. One of them was going on the Willamette Queen - an old riverboat on the Willamette River in Salem. The socks and I got to drive the boat!
And then I went to the Oregon State Fair with my mom, who wanted to look at bunnies. This lovely black French Angora agreed to pose with the socks.
Then the socks and I went to the dentist, but the socks just stayed in my bag while my mouth wrestled with the digital x-rays.