Vassenda?
Tonight I got together with the usual Monday night knitting girlies (minus one who's out of town). Usually we cause chaos in Starbucks by talking about random topics which other patrons may possibly find disturbing, being sketched, and having random men butt in on our conversations.
Tonight we went to Cassandra's house instead. We ordered a pizza and she told her name to the girl on the phone, spelled it, spelled it again, and said it once more.
We go to pick up the pizza and there's no pizza for Cassandra. So what did the girl write down?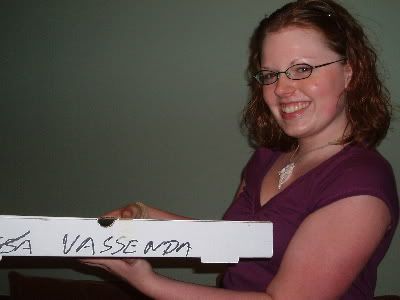 Well, first she wrote Vanessa, then she crossed it out and apparently stuck on the letter V wrote Vassenda.
We were maybe a little
too
amused. ;)
So we ate our (yummy if spelled wrong) veggie pizza and did some knitting.
Ah, the adventures of knitting group...