Worth the wait!
Today I received a package from my Knittyboard Summer Fling SP! She sent it over a week ago, but the mail has apparently been a bit slow lately.
But today the package arrived and it was definitely worth the wait!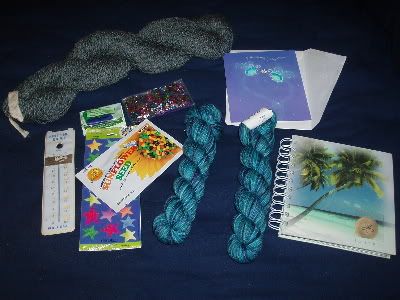 The yarn on the top left is sort of a one grey ply/one slate blue ply yarn which is much prettier than the photograph shows, and she sent 4 skeins. :)
Moving on we have a card, a journal with a tiny sand dollar on it (real, I think!), some gorgeous blue Koigu. (Socks, yay!)
Chocolate and candy crunch sunflower seeds - the rainbowy things on top of the star stickers. Now these I have never seen, I think they'll be very good. To the left is a needle gauge. Despite having two already one can *never* have enough needle gauges. I'm totally serious, I am forever hunting for my current one, which lives with the addis, and the 2nd is in some unknown location. However I can move this to the addi home and use the smaller square one as a take-along in my bag now. Very useful!
And last but not least, above the crazy seeds are some circular needle stitch holders (to hold the needle points) and some star confetti.
Thanks so much to Fiberfool, my Summer Fling SP!