A day with Knittyboard Folk
In the morning I met
Cathy
and we headed out to a sale at one of your LYSs. I got some bamboo sock yarn (I'm so excited to knit some of it!) and we did a little wandering around and shopping.
Later in the day we got a call from T, who was in town from NYC and we met her and went to the LYS again. Well, we had to! Then the three of us went out to a little cafe for iced drinks and dessert. We discussed what a frappe means in Boston and how it is not pronounced correctly. What is around here?
During that time I got invited along to see a movie with Cathy and some friends. T had to get going so we snapped this picture and sent her on her way.
We went back to Cathy's where I had forgotten my cell phone and then headed downtown, where I saw the cows pictured in the last entry. I also posed with my sock-in-progress with another cow, one that has the Boston T Map!
I'm pointing to my stop.
After a lovely dinner and showing of Clerks II, I went home and found a little envelope from
monkee
!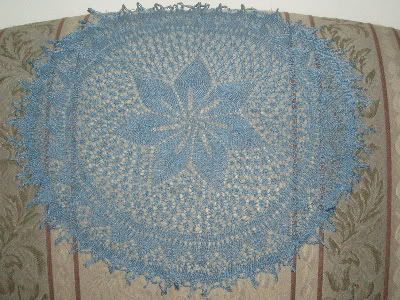 I'm the proud owner of a Monkee Original! Syvsternen, a 2nd version of the doily I admired on her blog months ago! :D I'm so excited.
She also has a picture of it
here
with a dark background that shows it off better.