My Amazing SP7 Strikes Again!
I returned home last night to find this waiting for me: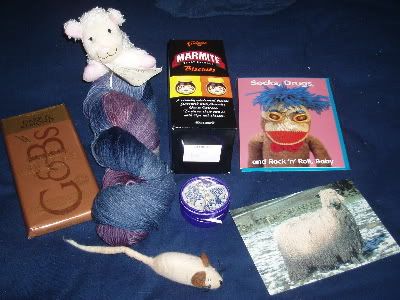 In this second great package I found (roughly L to R, top to bottom):
a bar of Green & Blacks Dark Almond chocolate
a little plush sheep which is also a zipper pouch
some gorgeous sock yarn from Curious Yarns in the Gothic colourway
a felted mouse for my furry sidekicks
Marmite :P biscuits
a little tin containing the most adorable blue and white ceramic animal stitch markers
and two cards
The first is a blank card for me to use (or more likely frame and hang on my wall) which, as you can probably see, says "Socks, Drugs, and Rock 'n' Roll, Baby" Now really, how appropriate is that? (Minus the drugs, of course!) The second sheepy card is a note from my SP.
Thank you SP for this truly amazing package!
Some of you may have noticed that my SP seems to have gotten the point that I am madly in love with sock yarn, as both of my packages have contained beautiful sock yarn. :) Now I'm just glad that my SP accepts my obsession instead of thinking it's unhealthy and trying to go against it by sending me buckets of Fun Fur.