My first SP box!
My Knittyboard SP7 sent me these goodies from far away, and they arrived today! :)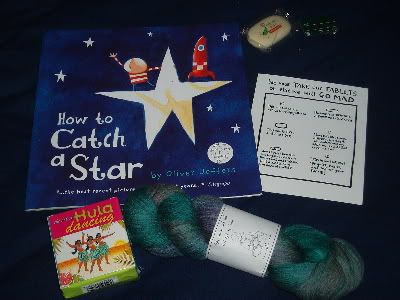 The book is a very cute story with beautiful artwork. I love it SP!
Also included was a Hula kit (so we can hula together, she got one too!), an adorable keychain with a computer chip piece on it, and a natural rubber eraser - which is a clue to my SP's identity.
And sock yarn! This beautiful yarn is from
Ysolda
.
Not pictured was some chocolate from Thorntons. But it's not the normal "it mysteriously disappeared into my tummy" excuse. Oh no. I did eat one piece, but the rest of it mysteriously disappeared into the fridge, because it is
91 degrees out there today!!!
No, I am not kidding. The average for today historically is 78. Today it is 91.
91!
Excuse me while I go faint. The chocolate was just a little melted. Really, it stood up admirably to the weather.