Meet the Team! (Amazing Lace Intro)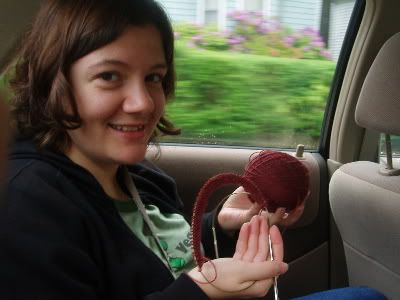 Our reporter Purl Stitch caught up with Stariel and her Amazing Lace team member Elizabeth I on their way to the Massachusetts Sheep and Wool festival on Saturday. Since they met in February, this cute couple has been taking it slow.
"A few weeks ago I got the urge to cast on for something while chatting with MJ on IM." says Stariel. "I cast on and knit a few rows on Elizabeth I. During that conversation MJ might have convinced me to knit all of the variations of the Elizabeth I pattern, but for this first shot I'm sticking to Dainty Bess."
Saturday was their first real date together, and the couple spent it dodging paparazzi and experiencing the pleasant weather and species diversity. Stariel even managed to resist the other yarns for sale at the festival!
Although the new couple has been tough to catch up with, their friends have been more than willing to give their thoughts on the partnership.
"I always thought there was something missing in Ariel's life - someone special, someone exciting, someone lacey! When I saw Elizabeth I, I knew she was the one for Ariel! On Valentine's Day I introduced Elizabeth I to Ariel and the rest is history" says
MJ
, who introduced Elizabeth and Ariel earlier this year.
Though their relationship is still in the early stages, knitting friends have great hope.
"Elizabeth and Ariel, what can I say? The beauty between them moves me, like light across Elizabeth's lacey edges. I feel more alive when I see Ariel make her magic on Elizabeth." says
Veritas
.
The famous lace knitter
Monkeemaven
even had her say: "Ariel and Elizabeth will do well as lace and life partners... though I do worry that Ariel has a wandering eye. She has a bit of a thing for sock yarn, I fear, and Elizabeth may get jealous... oops, are you writing this down? Stop!"
In fact, it seems that Monkee was right, as tabloid reporters have purportedly caught Stariel in bed with the promiscuous sock
Hedera
!
It looks like this team has some challenges to overcome if they hope to win The Amazing Lace, but those who know them both are still optimistic. And, in conclusion, "Lace makes pretty holes!" says
Cheese