Socks... I'm beginning to think I have a problem.
Do I have a sock problem? Yeah... probably...
This lovely pair of pink
Broadripple
socks was knit in Cascade Fixation. I started them on 9/8 and finished them in the wee hours of the morning 9/10. During their short time as a WIP they watched House with me, came on the subway and commuter rail, went to the beach, and went to see
Little Miss Sunshine
with Alexis and me. :)
And now the 2nd pair, baby socks again!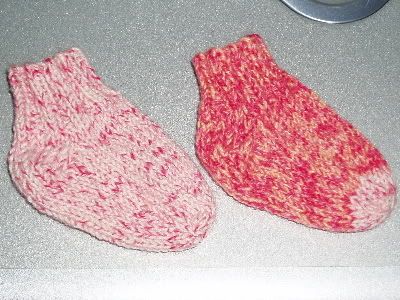 These are the socks I started at Alexis's when I finished my Conwy socks and had nothing to knit. Apparently the color repeats in this yarn are large enough for a whole baby sock, which makes them look a little odd.
And tonight I cast on and knit a couple rows on the cuffs of my Rock and Weave socks from the second Socks That Rock club kit.