Bad Kitty! (now with socks)
There's another little story about Thanksgiving that I meant to tell you, and it kind of involves knitting. As I mentioned in the previous entry we were doing a lot of baking. In between steps I went out to the couch to sit down for a minute and started knitting on my socks. My friend was talking to her cousin on the phone. Moments later I heard a huge crash.
Turns out that Java had jumped up on the hood of the fish tank, as she does occasionally, and somehow caused the whole hood - including the light - to fall into the tank. I looked up to see a wet cat rocketing out of the fish tank and the light on underwater. I flung my knitting aside, pulled all the plugs out of the wall, and proceeded to pull the dripping wet light fixture out of the tank. There was water splashed halfway up my living room wall.
The mug shot:
Don't be fooled by those innocent eyes.
In other news... Socks #39 this year (#45 ever) have been finished! These are the socks from the story above as well.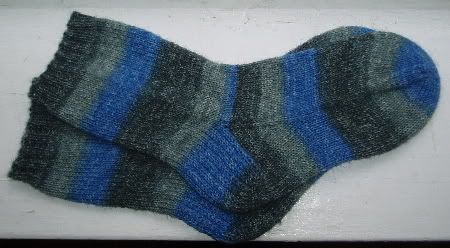 Yarn: Austermann Step (with jojoba and aloe!)
Started: 11/13/06
Finished: 11/25/06
The yarn itself reminds me a bit of Regia or Opal, but there is definitely a different feeling from the aloe and jojoba. I told some friends it felt a little slimy, although I'm not sure that's the right word. More like you just put lotion on. I'm excited to wear them and see how they feel on my feet!
In other sock news, after one wear (during which it turned the inside of my shoes slightly green) and wash the Fearless Fibers yarn is quite fuzzy. Those socks look almost the same as a pair in Patons Kroy that's a year old. Too bad, because I really like some of the colors.