Knitting over Thanksgiving
For Thanksgiving I had a non-knitting friend visiting - my college roommate, actually. We spent most of Thanksgiving Day baking and went to the home of one of my knitting friends and had a lovely time for dinner. I made pumpkin pie, rolls, and cookies. :)
The day after Thanksgiving I dragged the poor non-knitter along on a knitting adventure! We went out to Walpole, MA (I'm really not sure where that is still) and went to a shop called Dee's Nimble Needles. She carried JKnits, but didn't have any colors that I wanted. I was, however, tempted by some Collinette Jitterbug.
After the yarn store we went to Starbucks and sat for a while knitting, chatting, and drinking coffee.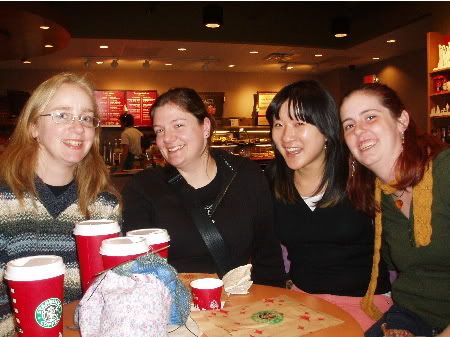 From left to right:
Rae
, me, Tania, and
Cathy
Those are my socks in the center of the table. ;)
Speaking of socks, I have two more pairs done!
#38 was a test knit so I can't show you any pictures yet
#39 is the socks seen above. I finished them tonight but I won't take a picture until tomorrow when there's light.