My first Lacevember project!
I was just planning to finish the bottom lace on Hush Hush (which will make it a TV knitting project) and try to finish my Elizabeth 1 scarf, but then yesterday the sock fairies made me cast on for Hippy Crunchy. The pattern and yarn are from the 3rd Rockin' Sock Club kit, the yarn is Peaseblossom.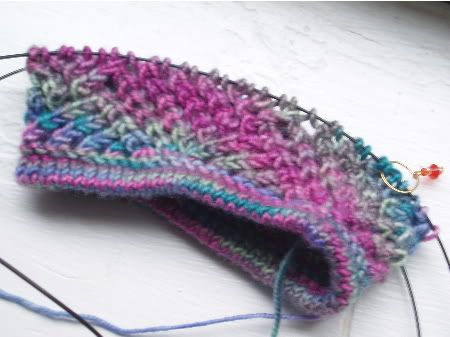 Because I'm a little bit of a perfectionist about my knitting (ok, a lot bit) I didn't like the seam stitches.
Kris
and I discussed it at Knitsmiths and came up with some modifications to the pattern. First we're removing the seam stitches. This makes the sock look nicer IMO, but means you have to move the beginning of round sometimes (hence the single sock on magic loop). I'm also going to knit a heel flap and continue only 2 repeats of the lace pattern onto the foot instead of three - adding the seam stitches back in at that point.
So I begin knitting this sock and quickly realize that the lace is REALLY stretchy. I'm knitting 60 stitches on size 0 and it is waaaay to big. The turned stockinette hem (done on 1s with 60 stitches) is fine, and it holds the sock up on my foot, but I'm worried that the lace is going to make it waaaaay too big. Maybe it's better to decrease after the turned hem to 48 stitches and knit it on my 2.5mm needles?
Thoughts? Help?