More about socks!
The sock knitting has slowed around here as I finish up my Hourglass Sweater - hopefully in time for Rhinebeck. It currently stands with part of a sleeve and the yoke to go. Think I can do it?
But, as the title promises, today we will talk about socks.
Lolly
asks:
Where have your handknit socks been?
My socks have been all over! I take socks with me on my day to day travels, and when I visit family or go on vacation as well. For example:
While in my possesion:
Baudelaire
was started in Salem, OR from yarn I bought in Portland and finished here in Boston.
The
Koigu mystery socks
went on many adventures in Salem.
And
Cedar Creek
got to go see Tool at The Gorge in George, WA.
The most recent unlikely pair went to WEBS and met a fair few knitters.
After they were finished:
The Milanese Lace socks
went to live in Canada.
These Trekking socks
are currently living in Texas.
What is the furtherst they have traveled?
Hmm, not sure. Probably my trips to Seattle and Oregon have been the farthest my socks have gone. I haven't been out of the country since I started knitting socks. :)
However, if we count yarn I have received sock yarn from Slovakia and England, so soon I'll have socks made with yarn from afar!
What, no pictures?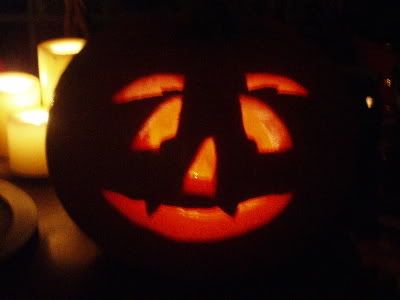 This pumpkin was carved last Friday at a Halloween party with many of my knitting friends. It was a group effort, and
Alexis
has a much more detailed account on her blog, along with a picture of me menacing the poor innocent pumpkin.