Rock and Weave (#32)
Yay, I'm finally done! I'm way behind in the STR Rockin' Sock Club kits, this is the second.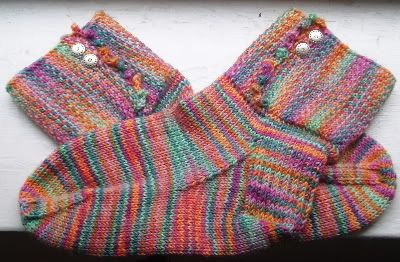 Two notes:
1. Yes, those are the exact same buttons as in the pattern picture. No, I didn't do it on purpose.
2. Yes, my picot edge goes the other way. Yes, I did do it on purpose. :)
Pattern: Rock and Weave from the second Rockin' Socks Club kit
Yarn: Socks That Rock in Fairgrounds
Started: 9/12/06
Finished: 10/6/06
At first when I saw the pattern I didn't want to knit it. Then I started thinking about buttons and bought some and decided that I would, indeed, use the pattern from the kit. Plus for me that was the whole point of joining the Rockin' Sock Club - to expose myself to colors and patterns I might not knit otherwise.
I really enjoyed these socks, although they are a little awkward on the needles right after picking up stitches from the cuff. I really like the finished product and they fit great!