Spinning SP strikes again!
Today I found a little box all the way from London, from my spinning SP!
The box was little, but she managed to pack a lot of stuff in there!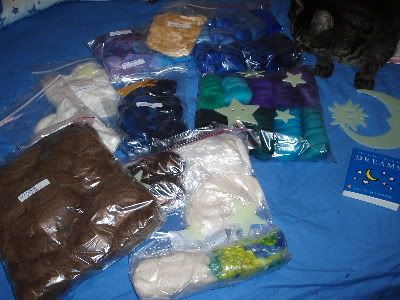 A whole lot of fiber along with some glow stars, moon, and sun, a book about dreams, and a little wooden shooting star which Pan was crazy about and tried to eat.
Clockwise from top left: bamboo, soy silk, angora, alpaca, and wensleydale and angora that my SP handdyed!
A rainbow of merino - well, at least the part of the rainbow I like. :)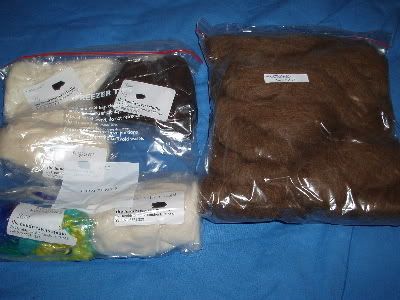 Left: cashmere, yak, white alpaca, dip dyed wensleydale, and a llama silk and wool blend!
Right: a nice big bag of Shetland Moorit
Thanks Pixeldiva for being a truly amazing SP! I can't wait to try out all these new fibers, but it will take me a while. Of course all you readers can look forward to seeing a lot of crazy fibers spun on this blog now. :)
And I also got a RAK of a small amount of buffalo fiber from String yesterday, so that will be coming up too. :D