Science, in more ways than one.
I spent this weekend out in Provincetown at my PhD program's annual retreat. There was a lot of science involved as well as a little knitting - look out for some FOs in the next few days.
Today we headed back to Boston and my friend Nicole and I did some indigo dyeing.
She grew the indigo plants in her garden, so we went out and harvested a bunch of leaves. Unfortunately at that time I hadn't thought of taking pictures yet. After letting them simmer to make the dye bath we strained the leaves out.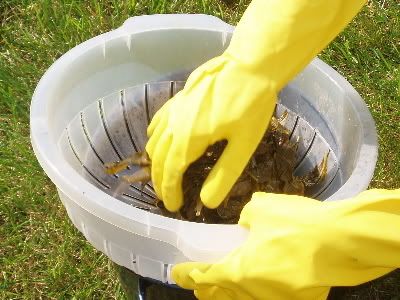 After straining Nicole poured the dye bath from one pot to another until the color turned from the slight yellow brown pictured below to a darker blue-brown.
At that point we added our reducing agent and the solution turned blue-green.
Then it was time to add the yarn! I dyed two skeins of Baby Ull and Nicole dyed some sock weight yarn (probably Knitpicks) which she had dyed with indigo once before. The dye bath is a light greenish yellow color at this point.
When the yarn is pulled out of the dye bath it's yellow, but after squeezing the water out the dye is quickly oxidized and turns blue. This skein is in the process of being squeezed.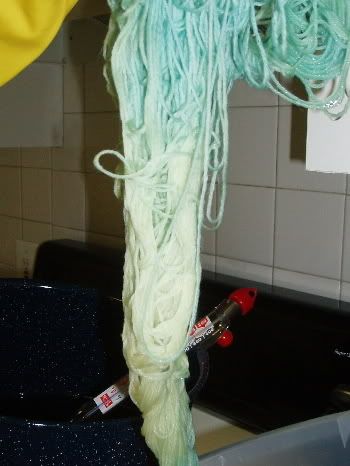 Then we let the yarn sit to oxidize a bit more. The darker yarn in the back is Nicole's yarn that she dyed for the second time, and the lighter yarn in the front is mine.