Socks and mail, once again!
Yesterday I got some yarn in the mail from Artsygal. She sent this yarn which I'm going to knit her socks with, and then she's dyeing me some yarn to keep.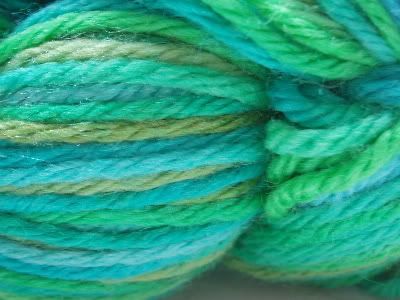 And yesterday I went a whole day without finishing a pair of socks, but today I have my 2nd sock for the Summer Sock Party swap done so I can finally get rid of that 1/2 pair in the count!
Pattern: Leaf Edged Socks from Knit One Crochet Too
Yarn: Wick
Started: 9/12
Finished: 9/13
And this 2nd sock brings me to 25 pairs in 2006 - my 3rd Sockalution (the first two were too low). So I'm off the hook, I can now knit things besides socks... but why would I want to? ;)
Actually the other night at knitting group I took Hush Hush and worked on that, but sadly I forgot my camera so no one could document the rare sight.