Sock Party!
I got my package from my Summer Sock Party pal today! My pal was
Katherine
She left the toe ungrafted for me in case it didn't fit. I actually did decide to tink 1 row since the sock was a tad on the long side. It would have been fine but since it was all nice and ungrafted I decided to go for it. :)
I'll post a better picture of the socks with the cuff design once I knit the 2nd one. The yarn is Wick, a soy and polypropylene blend. I like it! :)
And now for the rest of the goodies!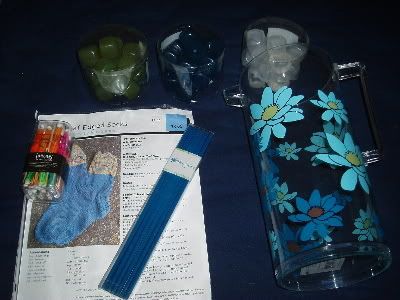 I had to wait and post this picture second because I am sooooo excited about those little plastic ice cubes (back row). I know you're all knitters and this swap is really about the socks, but I got plastic ice cube thingies! I've been wanting those things for ages! And they're pretty colors and they match my new pitcher which I'll probably use for iced tea!
I also got blue chopsticks (how awesome is that?), and little drink umbrellas.