Sock Wars! (and the Boston Knit Out!)
First off, Boston folks, if you're coming to the Knit Out tomorrow say hi if you see me! I'll be at the info booth volunteering for the first hour and around for most of the afternoon too. I'll be carrying a blue messenger-style little bag with a lighter blue square. :)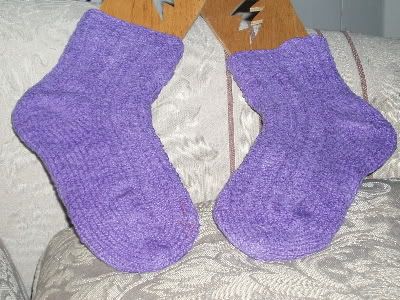 I may just be the first sock warrior to send my target washed and blocked socks. ;)
My plan was to get my socks out in the mail this morning. I didn't have the details of my target's foot size but since it was supposed to be close to mine I knit up to just before where the toe decreases would start for a size 6 or so and figured I'd double check in the morning when I got my dossier.
Well, due to continuing hurricaine issues I didn't have my dossier, but I did learn that my target has size 11 feet! (I have tiny little feet, so this was a bit of a shock.) But I dutifully continued and finished the socks. Not that it would have mattered if I *had* been done this morning since I still wouldn't have had an address.
All I have to say is that I'm
very
glad that I'm using stretchy yarn because otherwise I would never have had enough to finish the socks, and I started out with almost 100g.
The socks fit me completely unstretched, so I don't think it's too much to ask for stretchy (think Fixation) yarn to fit feet about 1 3/4 inches bigger.
Pattern: Sock of Doom
Yarn: Classic Elite Star
Started: 9/22/06
Finished: 9/23/06