Randomness, and some knitting and spinning too
First off,
what flavour crisps does James Bond eat
?
Then check out the
Find of the Week Archives
from a local bookstore (and home to the
Knitsmiths
) Brookline Booksmith. I think they're cute.
And now for your daily fiber!
I finished this purple handspun last night. It's somewhere between fingering and sport weight, and a little more thick and thin than I would have hoped, but I'm still pretty happy with it. :) I bought the roving at Rhinebeck last year and I think it's BFL but it wasn't labelled so I can't be sure. It's pretty much solid, but there is a slight barberpole effect in some sections where slightly lighter and darker bits were plied together.
And closer: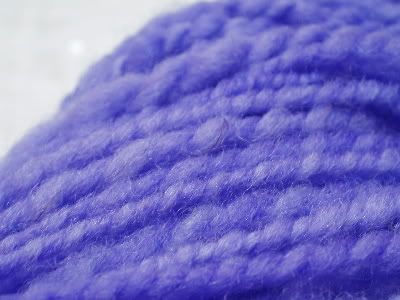 And since today seems to be a purple day, here we go with some purple socks!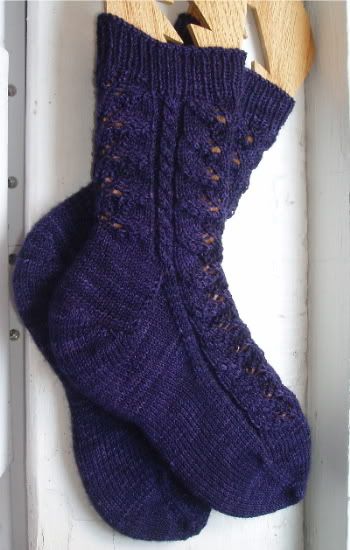 Pattern:
Baudelaire
from Knitty
Yarn: Nature's Palette in Iris
Started: 9/1/06
Finished: 9/19/06
I really liked the pattern. It wasn't too hard so I could knit it without looking at the pattern after a couple of lace repeats, but it also had enough going on to keep my interest. The short row heel technique on this pattern was also very interesting. I'm generally not a fan of short row heels but this one wasn't bad at all!
As for the yarn, the Nature's Pallete was very nice to work with, except for the fact that it kept turning my fingers purple. However when I washed the socks before blocking not much dye came out in the water. It will remain to be seen whether my feet will turn purple on the first wearing. The base yarn reminds me a bit of Koigu, but it isn't the same since it's not superwash.