Socks, as usual...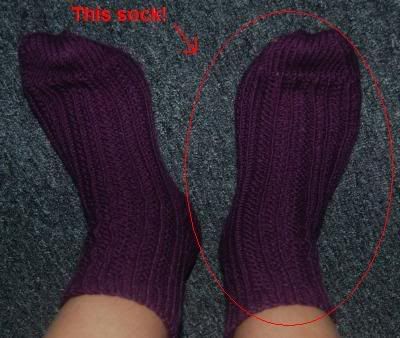 from the 2nd Sock Wars pair
PLUS
= 31 pairs - no 1/2 :)
Pattern: stockinette with 2x2 ribbed cuff
Yarn: Jarbo raggi
Started: 10/2/06
Finished: 10/3/06
And now some Socktoberfest questions:
When did you start making socks? Did you teach yourself or were you taught by a friend or relative? or in a class?
I started making socks in October 2004 with a tiny pair of decorative Red Sox for a classmate - without a pattern! Then I went on to my first real pair.
What was your first pair? How have they "held up" over time?
I knit a pair of socks with Lion Brand Magic Stripes on size 3 bamboo DPNs. They've held up quite well and I still wear them!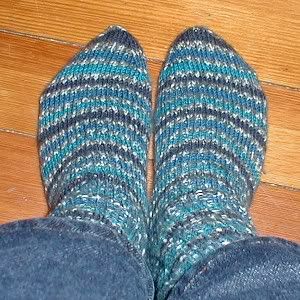 What would you have done differently?
I would have cast on less stitches so I didn't have to knit the whole leg in 2x2 rib. I knit the first sock according to the pattern on the ball band and it was way too big, so I ripped it all out and cast on again but knit the whole leg in ribbing so I wouldn't have to change the numbers on the heel flap.
What yarns have you particularly enjoyed?
My favorite sock yarns are Lorna's Laces, Socks That Rock, and Sunshine Yarns so far, but I'm always looking for more.
Do you like to crochet your socks? or knit them on DPNs, 2 circulars, or using the Magic Loop method?
I usually knit my socks 2 at once using magic loo
Which kind of heel do you prefer? (flap? or short-row?)
I like heel flaps much better than short row heels - both the knitting and the fit.
How many pairs have you made?
31 pairs this year, 37 total