An Unlikely Pair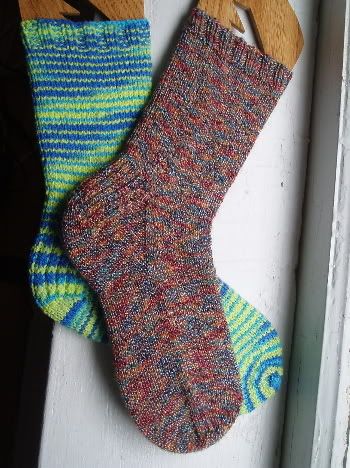 Left: Cascade Fixation sample sock, started 10/14, finished 10/16
Right: Regia Bamboo sample sock, started 10/6, finished 10/14
You already know how much I like Cascade Fixation, so here's a little blurb about the Regia Bamboo.
I'd heard mixed reviews about this yarn. Some people said that it didn't hold shape well and didn't have enough stretch - there were complaints that the ribbing was floppy. I didn't have this problem, in fact I
love
how the sock came out! I knit it on 2.5mm needles and the ribbing is fine. Even the stockinette has quite a bit of stretch. I have a couple balls of this yarn to make socks for myself and I'm looking forward to it!
In other news, we had a visitor at our knitting group last night! The wonderful Portland Knittyhead Helen was there! I met her when I was visiting Portland, and since she was in Boston we met up again. We hit a couple of yarn stores - Windsor Button and Newbury Yarns - and then went to Trident to have some dinner and knit.
Joanna
came too!
On the way out we noticed the crazy window display in Ralph Lauren and had to take a picture.
Notice the crazy knit cabled tube top above my head, complete with matching wrist warmers!
And now to top it off, here are a few reader questions.
omly
asks: "
Your handspun looks even better plied. About what weight would you say it is?
"
It's roughly a heavy worsted weight. It's a little thick and thin with a few sections that would branch into the bulky weight.
Amanda
asks (re WEBS): "
What did YOU buy for your stash?
"
I was actually very good! I bought one 50g ball of sock yarn (enough for socks with short legs on my little feet) that I had never seen before Gedifra Fashion Trend Sportivo. At one of the other yarn stores I finally found the 2.25mm 40" Inox circs that I was looking for so I bought those too.