Hey, it's almost Halloween!
And here's something scary...
The Sock Stash
*cue creepy music*
... and more
... and more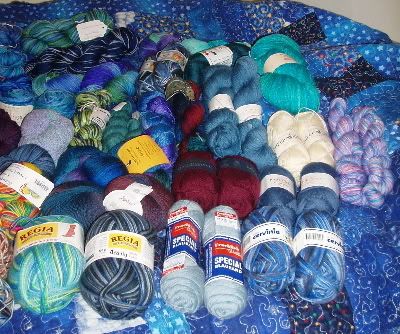 These skeins were absent during the original sock stash photo: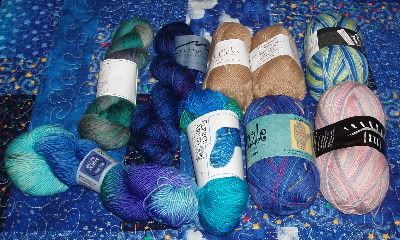 Wow, now that's a lot of sock yarn! Much more than
back in April
(1st picture). Strangely, even though I have knit a
lot
of socks since then, I still have more sock yarn. This is why the current stash-reducing plan is so important. ;)
Lolly
asks:
Do you have certain patterns planned for some of the yarns? Do you buy yarn and then choose a pattern?
I do a little of both. I am always coming up with great plans for specific yarns and patterns, but then I forget them. Now I have a "Sock Plans" spreadsheet to put that stuff in so I remember.
Does a certain sock yarn you have in your stash take you back to a certain event? (where you were when you bought/received it? what was going on in your life at the time?)
Yup! A few of the skeins remind me of various Sheep & Wool festivals where they were purchased. More remind me of certain people. I know there's yarn that
Rachel
dyed for me, the yarn I bought when I was with the Portland Knittyheads... You get the picture. ;)
However, there is another good part about this whole picture taking thing... I have actually catalogued the entire sock stash in a spreadsheet! While doing this I found out that my two skeins of Mountain Colors Bearfoot are actually the same color. The dyelots are quite a bit different, but the color name is the same. And the funniest part about that is that they were both received in swaps/SP exhanges!