Socks? What socks?
Today I headed out to Mind's Eye Yarns to see Kim Werker and Shannon Oakey and chat and knit and such. Kim finished a hat and posed with Humphrey to model it.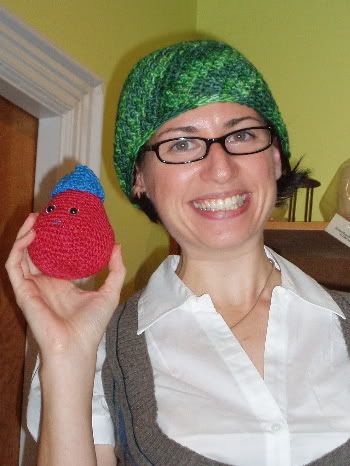 It was lots of fun, but sadly they didn't have the
Spin to Knit
book just yet, so I couldn't buy it. Instead I got some of the merino tencel blend hand dyed sock yarn that I've been dying to try.
See, I took that talented picture on top of my keyboard at night with flash, attractive no?
Then
Rose
and I headed back to her place and confused her roommate with spinning talk. We were going to go to a yarn store, but there was some weird time warp and it was magically 5pm when it had been 3:30 only minutes before! So instead we headed out towards my place, grabbed some yummy Thai food for dinner, and came back to my place to spin, knit, and watch DVRed Law & Order. Woohoo!
I've made good progress on my maybe-for-Rhinebeck sweater today - did the whole turned hem and a few inches of body. Hopefully I can keep it up!