Mail Call
More sock yarn has come in the mail, as I alluded yesterday. Today I got my half of a swap with the lovely
Javede
. She sent me some German sock yarn (the one on the right is from the
supermarket
, can you imagine?) The Jaywalker on the left is one she abandoned and offered up to someone who would finish it. I offered to take it, and then figured since she was sending me the sock all the way from Germany we might as well make it worth her while and make it a swap.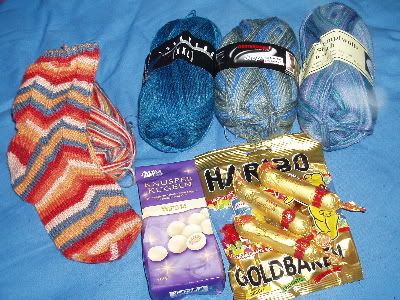 I'm also very interested in the little white chocolates with what looks like nuts inside, and marzipan is my favorite!
I got my October package from the Rockin' Sock Club today too! There's a picture of the yarn
here
, to avoid spoiling it for anyone that hasn't received their package yet.
I also finally realized that if I ever want all my crazy varigated and handdyed sock yarn to get knit up I have to realize that knitting plain stockinette socks is ok. I actually don't mind doing it, but I just feel like I should have a pattern for all my socks.