Rhinebeck stash enhancement
There was stash enhancement of both the yarn and fiber varieties, so today we'll talk about that!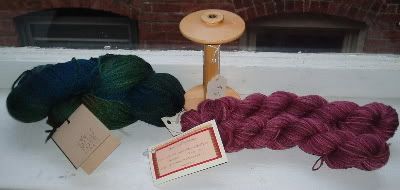 First up, some sock yarn and a new bobbin. I've been wanting a 4th bobbin for my Kromski Sympony for a while, and ordering one online would be fine except once shipping is added in, it gets expensive. I saw one at Rhinebeck and picked it up.
The yarn on the left is Briar Rose Fibers Grandma's Blessing - a sport weight superwash merino. A knitting friend Amanda designed a pattern for them so we had to stop by, and we got to see the socks from the pattern picture too!
The yarn on the right is Spirit Trail Fiberworks. Did you notice it's pink? It's not for me, it's actually for Amanda who wasn't able to make it to Rhinebeck. I would have bought some for myself but they didn't have any colors I wanted.
Finishing off the yarn, I bought a sock kit from vanCalCar Acres, the yarn is hand dyed and the pattern was designed by a fellow Knittyboarder. The sock yarn on the right is from Ellen's Half Pint Farm.
And on to the fiber...
On the left you see Fancy Feet sock roving, a wool nylon blend. On the left 4oz of Manx Loghtan, a rare breed. I split an 8oz bag of this and the CVM below with bryghtrose.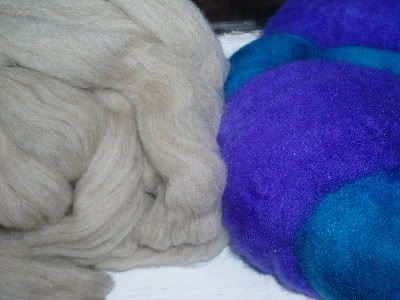 On the left CVM (California Varigated Mutant), on the right some handdyed BFL.
And there were more people!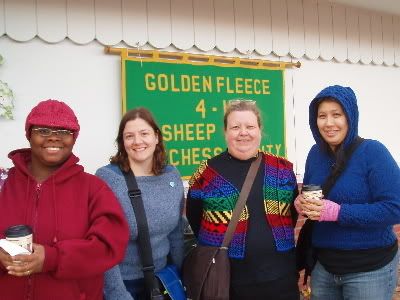 The unidentified person in the rainbow vest is Of Troy from the Knittyboard. If she hasn't been crowned sock royalty yet she should be!
Jenna from
Cinema Knits
and me - we made
the same socks
, we live in the same city, we are almost the same person!
I also met about a zillion other bloggers. Seriously, a zillion. I can't name them all, there were tons.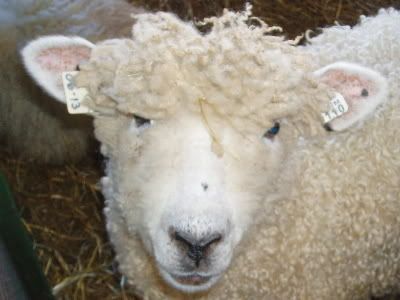 No, Valerie, I didn't take this sheep home. ;)