Prizes, RAKs and socks!
The other day I got my prize from
Crafty Fox's
contest.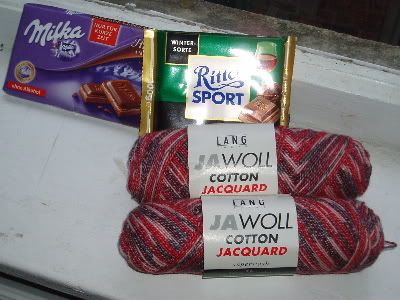 I bet that's the best sock yarn anyone's gotten just for liking Marilyn Manson. ;) As you can see there was yummy chocolate as well.
Then yesterday I got this great RAK from YarnKnita!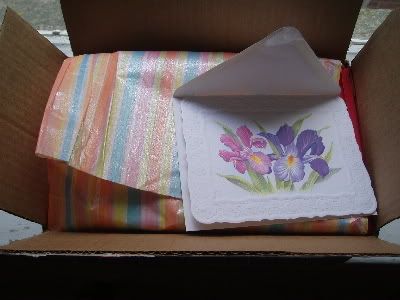 It was all wrapped in nice tissue and there was a pretty card.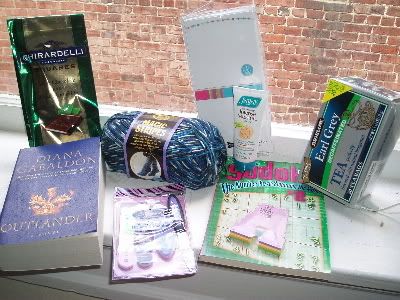 And look at all the goodies inside! A mini manicure kit (I was desperately in need of that), sock yarn, candy, sudoko, sticky notes, a book, hand lotion, and tea!
And finally... Socks! Yes, you heard right, the socks are back.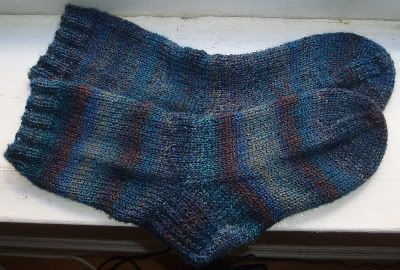 Here are my most recent socks (#35) made with Limbo that I
got from my amazing SP, Skitten
!
Yarn: Schoeller + Stahl Limbo
Started: 10/20/06
Finished: 10/26/06
If you look closely at the picture you'll notice that one sock is more stripey while the other is more... blendy. I guess that's just the difference between the two balls, but I actually like it!
The yarn is a sportweight and very nice to work with, and the color kind of reminds me of Trekking.