Egeria Rocks!
A fellow member of the
Knittyboard
sent me this lovely package. It's a combination of a RA(o)K and a make-up package for a SP snafu.
First I saw this adorable card which gives a new meaning to Cat in the Hat, and my beautifully wrapped presents. She said the package had some Irish things (she's in Ireland), some yarn-y things, and some starry things, and she wasn't lying!
Here's the first round of goodies - yummy strawberry candies, a cute little Irish sheep, tea, beautiful star stitch markers she made for me, star erasers, and a little glass charm with a shamrock.
Look at the stitch markers!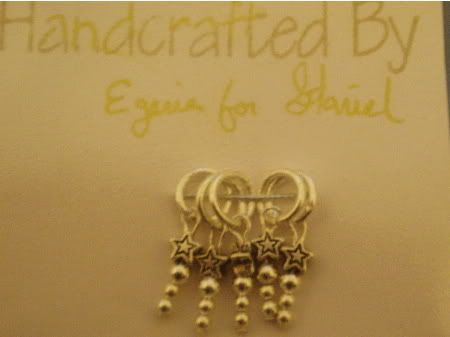 The next picture contains the yarny goodness - blue silk to spin, Lorna's Laces sock yarn in Watercolor, and enough chocolate to keep me happy for a while. :) I also got a book called Little Miss Star - I'd better go read it - and some weird looking Irish candies which I'm sure will be yummy, and a beautiful star ornament.
Thank you Egeria for totally making my day!