As promised, more socks!
I finished two pairs of socks - a pair for a test knit and to donate to Dulaan (so I can't show a picture just yet) and a pair of childrens' socks also for Dulaan.
Here's my sister's dog Zoe (our confused model) with the kids socks: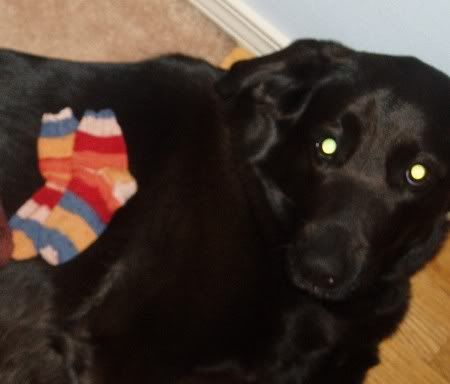 You can even see a bit of the heel of the other sock on the left, in case you didn't believe me.
Details:
#46 Man socks
Pattern: Hubby's First Socks
Yarn: Vintage 100% wool given to me by
enallagma9
Started: 12/20/06
Finished: 12/25/06
#47 Kid socks
Yarn: Fortissima Colori Socka Color (left over from Jaywalkers)
Started: 12/21/06
Finished: 12/26/06
Listening to: Wicked Game ~ H.I.M, When Love and Death Embrace ~ H.I.M.