Socks and yarn in the mail!
Today I went to Bazaar Bizarre where I met up with
Alexis
and
Bryghtrose
and saw
Shannon Okey
. I was amazingly well behaved and didn't buy any sock yarn even though there was one from
Skeintily Clad
that I really wanted.
In fact I only bought one thing - the
Spin to Knit
book! Shannon was nice enough to sign it for me and wrote "reminder: do not sell this for sock yarn" which is a very good reminder for me. ;)
Alexis headed off to meet a friend and Bryghtrose and I headed up to Newbury St. where I completed 1/3 of my holiday shopping. Then we headed out to my neighborhood and went to my apartment to drop our purchases off before dinner. There we found this:
The last package from the 2006 Rockin' Sock Club! When I pulled out the first bag containing the two skeins of Leticia (in Rooster Rock) I was a bit confused because it clearly is not sock yarn. After reading the newsletter I found it was because I won their contest!
The red skein on the left - "Mustang Sally" - is the December color, and the one next to it is our bonus skein - "Rare Gems" - which are all unique. I love the colors in mine, which is mediumweight.
In other knitting news:
Sock pair #42 is a pair of kids socks for Dulaan made with leftovers from the Jaywalkers
Started: 12/10/06
Finished: 12/15/06
Sock pair #43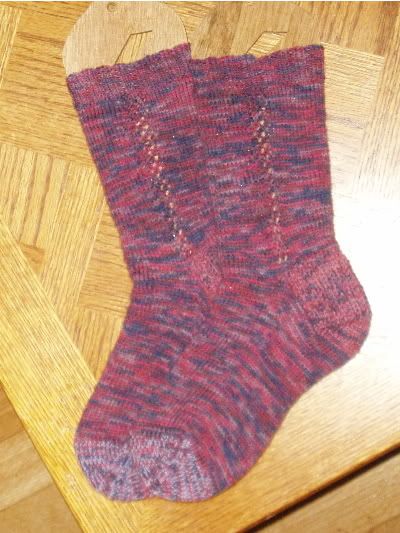 Pattern: Dublin Bay
Yarn: Trekking 07
Started: 12/11/06
Finished: 12/16/06
And last but certainly not least, the STR in Carbon I won in a contest on
Sheep Geek
.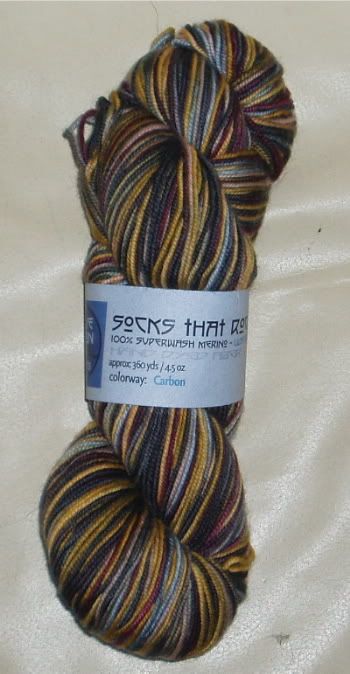 It's going to help me accumulate enough sock yarn to knit though the apocalypse.