My lame excuse...
So I haven't updated in a long time, and I haven't posted pictures of any of the things I've knitted lately. My lame excuse: I misplaced my camera cable. I spent three hours cleaning my room on Friday and still didn't find it.
Then, today on the way home from knitting group, I remembered where it was. In my laptop bag... Because someone who had just been travelling with their camera and laptop would obviously think to look there first (or not).
So here's a picture of one of my recent FOs, a slightly modified booga bag I made in Oregon over my break.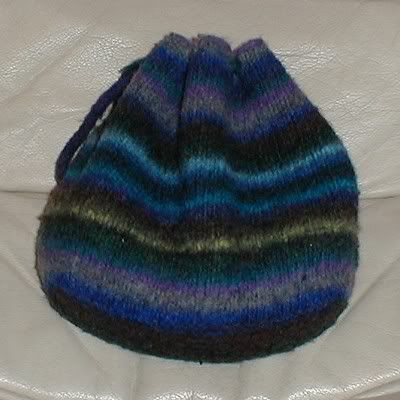 I also made a few scarves, but of course forgot to take pictures of them. One was the Knitty heart scarf for my mom, another was a black and red striped scarf for my sister Gina, which I finished long ago and forgot to take a picture of. I also made a Slytherin scarf, which I also forgot to take a picture of.
I'm a few rows and some fringe away from completing my Gryffindor scarf too, which I promise I will remember to post a picture of in the next few days.
Rogue is also going well, I'm at the V part of the front and about to start the hood - pictures of that soon also.