Just under the wire...
Socktoberfest socks #8, Socks of 2006 #36, #42 ever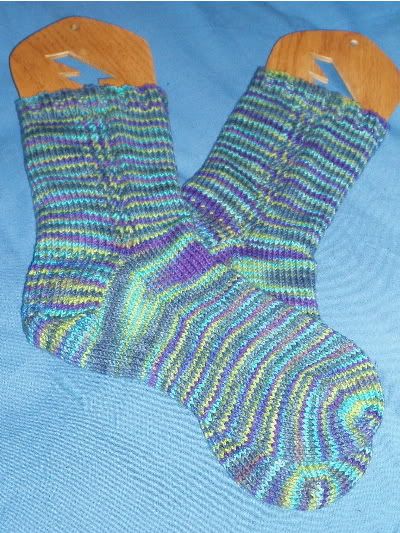 Yarn: BMFA Sock Candy in Lapis
Pattern: Dublin Bay
Started: 10/26/06
Finished: 10/31/06
I finished my Halloween socks, making 8 pairs for Socktoberfest and checking yet another yarn off my list.
I really love the colors in Sock Candy and I enjoyed working with it. The yarn is splitty in a weird way. The ends were unravelling quite a bit (and it's made of many little threadlike strands) but I didn't have much of a problem when I was knitting with it. It's a little stretchy, but nothing near the stretch of Cascade Fixation. Overall a thoroughly enjoyable knit!
Better pictures in daylight, I just had to get these in for the end of Socktoberfest. :)