Flash Your Stash
I has come to my attention (mostly from all the pictures posted yesterday) that my stash is not that big. Oh well.
First off, the sock yarn: I call this picture "Socks and Shoes"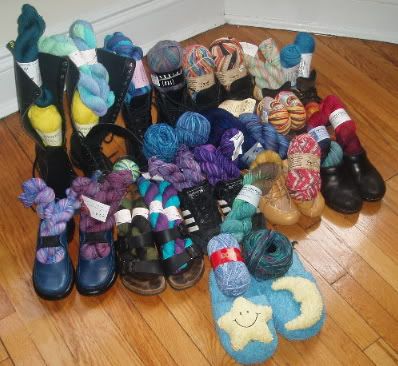 Except the socks have some assembly required. There has been one skein addition to the sock stash since the picture was taken, a gift from my Mystery Pal. :)
There's some Lorna's Laces, Opal, Trekking, Koigu, Wildfoote, Bearfoot, and various others. I'm not naming all of them!
And now on to non-sock stash: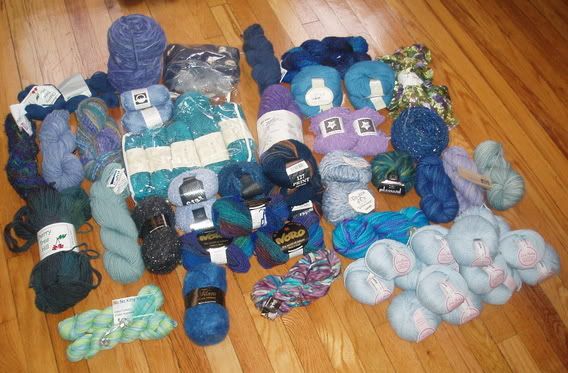 See, when I say I like blue yarn I'm not kidding!
Some highlights include the No No Kitty yarn in the bottom left corner, some cashmere blend for a sweater in the lower righthand corner, and the stuff in the bag is Nature Cotton. You can also probably spot some Manos and Noro.
And last but not least: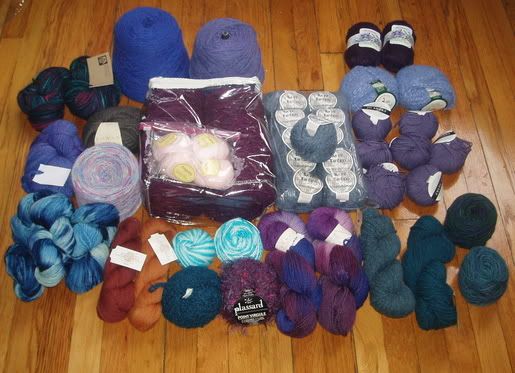 The rest of the stash!
The cones are Peace Fleece, there's some light blue tweed for a sweater, Handpainted Yarn Bulky in the lower left corner, the purple and blue varigated in the bottom row is Shepherd Worsted from my Holiday SP, and the purple yarn in the bag I won during the Knittyboard WIP-along. That's going to be a sweater too.
And that's it, the end of the stash. I have quite a bit of donated acrylic for charity knitting, but I don't count that as "stash" because I didn't buy it and it's not for me!