Knitted gifts delivered!
Well, I just returned from a little trip to visit some friends, and while I was there I delivered two knitted gifts: the lime green and turquoise baby blanket for the soon-to-be-born Tristan, and the Hufflepuff scarf for my friend Brian.
Brian even modelled his Hufflepuff scarf as soon as I handed it to him, even though we were outside in the sun and it was in the mid 70s. He's a good appreciative knitted gift receiver.
Unfortunately I don't have any pictures of the FOs, just progress pics, but here we go:
Here is a rather small progress pic of Tristan's blanket, since when it got bigger it became rather bunched up and ugly in photos.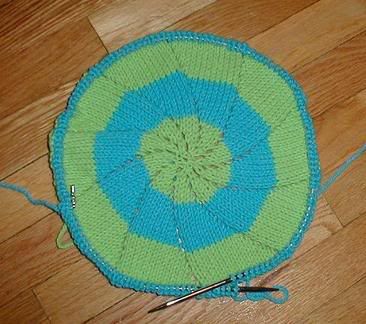 And here's the Hufflepuff scarf, at about 40% done (partway through stripe 8 of 19).