Getting caught up - my last SP4 package
So, this package arrived last Thursday and due to my friend being here for the weekend and my camera batteries dying and crazy busy-ness... Well you know.
So finally, here is the report.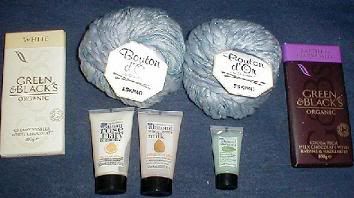 My last SP package contained two balls of the lovliest light blue yarn with a ribbon binder and silver sparkle! Also there were two bars of chocolate - white chocolate and milk chocolate with raisins and hazelnuts! Last, but not least, there was a little blue clutch bag (not pictured) with body wash, hand lotion, and lip balm all from Boots!
Thanks so much
rachydarling
for being a fab SP!