Something every knitblogger needs....
Kitties!
I have two lovely new additions to my family. Meet the kitties:
the boy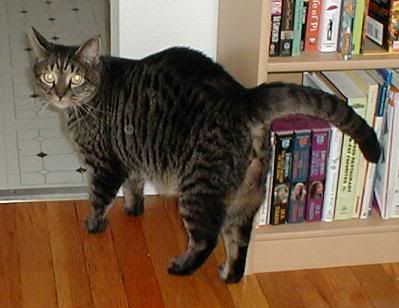 the girl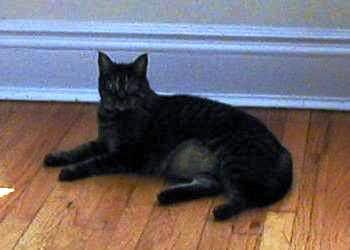 Sorry the pictures aren't that fabulous, but I've had them for less than 24 hours, and I didn't think that chasing them around with the camera would be the best way to establish a kind and loving relationship.
Edited to add more details:
The cats are 3 years old and they are brother and sister. They've lived together their whole lives and really do love each other. I got them from a woman who had to find them a new home due to her baby's allergies.
They came with the names Sebastian and Lulu, but I think I'm going to change them after I get to know them a bit better. I'm not very fond of the name Lulu, and I'm thinking of doing something brother/sister themed from literature or pop culture.
And in knitting events, I was working on my Zebra Shell and managed to snap the connection on one of my Denise cords. I have no clue how that happened but I'm going to have to email the company and request a replacement. This leaves me with only the Rogue and a pair of socks to work on today. The socks are coming to knitting group with me, and may even be finished today or tomorrow!